As Tucson Moves to Affordability, Meritage Homes is Strategically Entrenched
MARANA and TUCSON, ARIZONA – Meritage Homes closed on 91 SFR lots at Gladden Farms in Marana near the end of 2019 for $4.1 million, $44,800 per finished lot. All lots are 40 x 120.
Gladden Farms is a 1,350-acre master planned community in northern Marana, just west of Interstate 10 between Tangerine and Moore Roads. With four home builders active in the community, it is one of the most active communities in the Northwest submarket.
Meritage bought its first block lots at Gladden Farms in December 2015.
Will White and John Carroll of Land Advisors Organization in Tucson handled the transaction and have the marketing assignment on all of Gladden Farms by the developer, Crown West.
"Meritage has been very strategic in entrenching themselves in Tucson's top projects and in this lot size segment," said White. "They are currently in position to have a strong and efficient 'conveyor belt' of lots if they choose. In a market that is experiencing a historic shortage of developable lots, it's a nice spot to be in."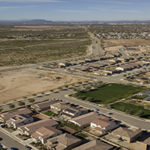 Since the beginning of the year, Meritage Homes has also closed on 41 SFR lots at La Estancia in the eastern Tucson market for $2 million, of $49,000 per finished lot. The 41 lots were 40 x 115.
La Estancia is a 565-acre residential community located along the I-10 corridor between Wilmot Road and Kolb Road, and offers residents access to the nearby Julian Wash trail system.
Will White and John Carroll of Land Advisors Organization in Tucson handled the transaction for buyer and developer, Sunbelt Holdings.
"Tucson has been moving to affordability for the past 3 years," White said. Lot offerings of 40′-50′ feet are not on the market long (if they make it to the market at all) and the pace and pricing power is helping to underwrite these deals quickly and easily. It is proving to be a very successful and sought-after lot size/ home size. The situation we have in Tucson is that several builders are searching for these positions and there are only so many of them to go around. If these lot size opportunities are presented, it would be a good move to pick them up swiftly."
For additional information, White and Carroll can be reached at 520.514.7454.