Flint Development Acquires 129 Acres for Large Industrial Distribution Development at The Crossroads at Gladden
Marana, AZ – Flint Development ("Flint") acquired two parcels totaling 129 acres from an affiliate of Crown West Land Group within the Crossroads at Gladden ("Crossroads") development located at Tangerine Road and Interstate 10. Flint Development is a commercial real estate development firm based in Kansas City, specializing in industrial, multi-family and senior living development throughout the country. Flint has over 50 years of combined experience and a proven history in development projects making positive impacts in communities. The acquisition encompasses Blocks 1 and 2 of Crossroads, bounded by Clark Farms Boulevard on the West and Interstate 10 to the East. Flint plans to develop over 1,700,000 square feet of Class "A" industrial space, with the first two spec buildings totaling nearly 1,000,000 square feet kicking off construction immediately as part of its Southern Arizona Logistics development.
The Crossroads at Gladden is located to the north of the Tangerine Distribution Center that has another 1.36 million square feet of distribution space under development and the Tangerine Commerce Park specific plan. The developer paid an aggregate of $21.2 million ($164,286 per acre / $3.77 PSF) for the 129 acres. The transaction closed on May 12, 2022.
An affiliate of Crown West Land Group acquired Crossroads in 2021 as its adjacent Gladden Farms Master Planned Community neared sell-out to over six different national homebuilders, commercial and multifamily users, and the Marana Unified School District, Northwest Medical, and Northwest Fire District. The complimentary mix of uses at Crossroads will bring substantial commercial and retail amenities to the Gladden Farms community and the Tangerine / I-10 intersection including employment opportunities.
Southern Arizona Logistics – Building Rendering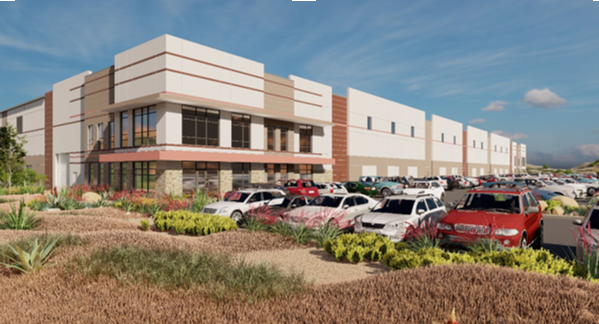 Photo Credit: Flint Development
Southern Arizona Logistics – First Two Buildings Site Plan

Photo Credit: Flint Development
The first two buildings will be an aggregate of 948,012 square feet with a planned delivery for 2023.
Tim Healy with CBRE Tucson represented the buyer, Flint Development, in the transaction.
Crossroads at Gladden: Remainder
The remaining 143 acres of Crossroads predominately fronts Tangerine Road and is planned for a mix of industrial, retail, and commercial uses expected to be developed in the next 24 months.
Blocks 3 & 6: 104 acres for planned Industrial developments with over 1,500,000 square feet of warehouse and distribution uses.
Block 4 & 5 (Corner of Clark Farms Blvd. & Tangerine): 12 acres for planned Retail, Commercial, and Lodging uses in a contiguous shopping center.
Blocks 7 & 8 (Corner of Tangerine & I-10): 28 acres planned with a Fortune 10 retail user for a single 'big-box' store location of over 150,000 square feet offering both dry goods and grocery.
Note: Glossed sections reflect user ownership. Photo Source: Crossroads Master Developer
As described previously, the high-visibility corner of Tangerine Road & Clark Farms Boulevard is planned for a shopping center with over 50,000 square feet of retail, restaurant, and lodging uses across seven pad sites. Crown West Land group is in discussion with several users for pad sites within Blocks 4 and 5.
Crossroads at Gladden – Future Retail Blocks 4 and 5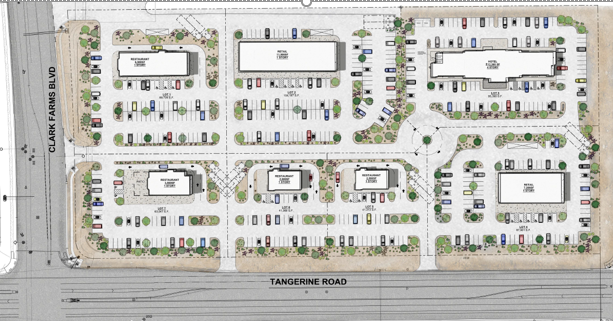 For information on this sale Healy can be reached at 520.323.5119; for information on the remaining Blocks 4, 5, 7 and 8 contact Nancy McClure of CBRE at 520.323.5117.