Land Advisors Organization Residential Development Team sells final Peralta Canyon parcel to Beazer Homes for $6.659M
Scottsdale, Ariz. – Land Advisors Organization is pleased to announce the sale of 78 lots in Peralta Canyon Phase II, located at the base of the Superstition Mountains in Gold Canyon, to Beazer Homes for $6.659 million.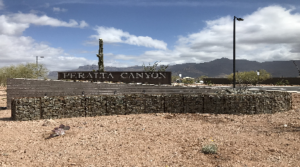 The sale of this parcel marks the close-out of available land at Peralta Canyon. Beazer Homes joins Lennar Homes and Gehan Homes in the second phase of this highly desirable community.
The sale was handled by Ryan Semro, Bret Rinehart and Ben Heglie, who specialize in single-family and multi-family residential development in Arizona for Land Advisors Organization.
The team has represented the seller, Peralta Canyon LLC developed by Voyager Properties, in the sale of land to homebuilders in 10 separate transactions. Builders represented by the team in these sales include Beazer Homes, CalATlantic, Gehan, KB Homes and Lennar Homes.
"Working with clients like Voyager Properties and Beazer Homes is very rewarding," said Semro, with Land Advisors Organization's residential team. "We've watched and predicted the growth in the area for years, and being able to help Peralta Canyon to close-out Phase II while expanding the presence of a well-respected builder like Beazer Homes into the phase is one of the ways we feel that we contribute to building successful communities around the Valley."
This most recent sale of the 55-foot by 110-foot guaranteed finished lots closed earlier this month and provides Beazer Homes with coveted inventory at the NE corner of US 60 and Peralta Road in Gold Canyon, Arizona.
Construction of Beazer Homes' newest Superstition Mountain single-family home development recently commenced.